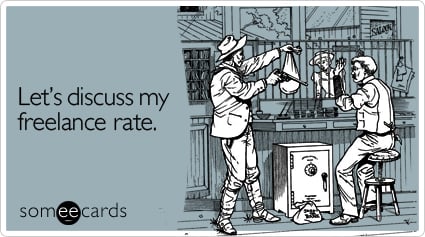 My grandmother called this weekend to tell me about an insightful piece in the business section of Saturday's New York Times–Putting a Price on Your Work, by Alina Tugend–and it's worth a read for any of my fellow freelancers out there. Or really, for anyone who wants to negotiate a better salary for themselves.
"I read somewhere," Tugend writes, "that no matter what price a new client states, you always say in a polite but firm tone, 'I expected more.'" The first time I tried it, I was sweating and I doubt my tone was firm — it probably sounded more like pleading—but to my great surprise, it worked. With that one sentence, I made an extra few hundred dollars."
Good advice. I'm definitely going to try using this phrase in the future. What are your other strategies for negotiating fair pay?
Image courtesy of Someecards